Partners Programme
HOW TO:
1. Register to shopfige.com partners programe here. This will be your personal dashboard, where you will be able to see sales and visitors live.
2. If you completed step 1 and you are already in your dasboard, go to "Link generator" section:

In here you can add any link from shopfige.com website. For example if you want to send people to a bag page, you need to copy link of product page and paste it in "Link Generator". ( You can do this with collection pages too)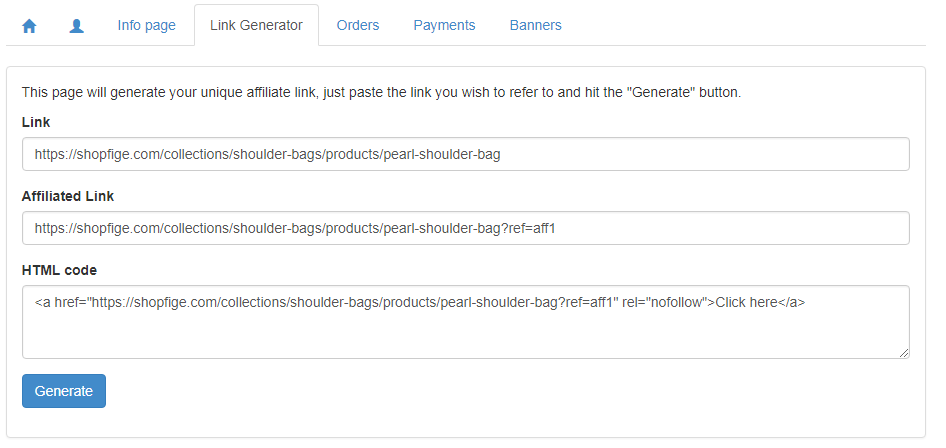 After generating the link, copy "Affiliated Link". ( The one with ending ?aff=number ). This affiliated link will allow our system to track your sales and visitors, therefore always give affiliated link to your subscribers/followers.
Selling tricks & tips
Well done! Now in here are some tips in order to optimize your link clicks:
1. Scarcity (Let people know that it is limited time deal. Offer will expire in 24 hours or this is one time offer are good phrases to use)
2. Offer - Always mention an offer, for example 50% off and free worldwide shipping! In shopfige.com some of the products are discounted up to 70% off!
3. Eye catching pictures. Try to use good quality pictures, use the help of photoshop if needed:)
4. We would recommend to send people straight to product page, as we noticed partners get better results this way.